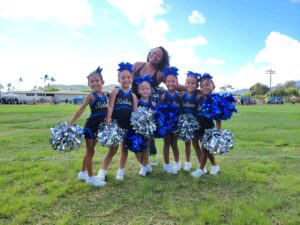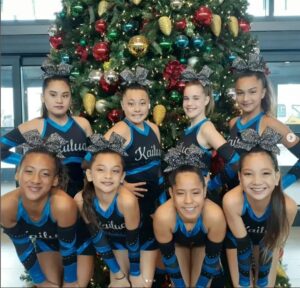 Thank you for your interest in our 2023 Spring Cheer Program. We are excited to see everyone.  Please see below for important information on the upcoming season and how to register. All registrations are first come first served. If you have any questions, please feel free to contact us at [email protected]
This season participants will NOT BE CHEERING FOR GAMES.   Our focus will be to prepare each participant for the next level with technique skills and drills.  This will be a basic introduction to the life of Cheerleading.  Participants will be asked to attend team bonding activities throughout the season.  All team bonding activities are additional expenses but we will try to keep all costing down if there is a cost.
Season Information: (Division is based on age as of July 31, 2022)
Ages: 5 - 9 yrs old
Season Dates: March 8 - May 17
Practices: 2 days a week at Pohakupu Neighborhood Park
Registration Fee: $50.00 due by February 15, 2023.  Any payments made after this date will incur an additional $10.00 per month thereafter.  NO EXCEPTIONS
Payment Options: (Cash, Money Order, Cashier's Check, Credit Card. NO CHECKS. *All Credit Card Payment Options are subject to a transaction Fee. )
Additional Mandatory Purchase: (needed by first day of practice.)

Cheer or Athletic Shoes - Walmart, Amazon etc.
Bow - Walmart, Amazon etc.
No refunds once registration is paid.
Documents Needed:
Documents can be submitted online HERE or dropped off in person at one of the registration dates above.
Online Registration Confirmation
2023 Medical/Physical Form (Dated after January 1, 2022 or cover activity dates of March - June)
Copy of Birth Certificate (If you are a new participant)
1 copy of Medical Insurance Card (Military, just show Military ID at registration.  DO NOT SEND in email or make copy)